The new realization of Stemas is a feed-through machine for pico-de-gorrión door panels, for the realization of millings where to apply decorative foil.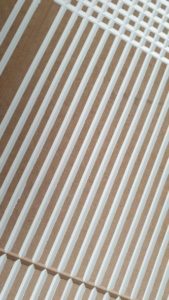 The milling units, mounted on an upper transverse bridge, are equipped with a floating copy-system, working as the door is transported by the vacuum belt.
After the milled parts are cleaned with blowers, the foil is applied. The units work using silicone wheels, with the temperature managed directly by the electronic control.